Often tickets, created outside of Myndbend Process Manager, relate to other tickets and should be children of a parent ticket.  With version 3.1, you now have the ability to link a ticket to a parent ticket.  The ticket will be listed amongst the other child tickets displayed in the app.
Steps to linking a ticket to a parent
When the ticket is displayed, click the Add button in the Myndbend Process Manager app and select "Link to Parent."  Note, this menu option will not be displayed if the ticket is already a child of a parent ticket or if the external_id of the ticket has been populated (eg. external system import).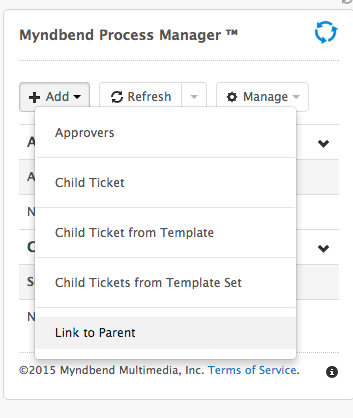 If you find the need to detach the ticket from it's parent, you may "unlink" it by clicking the gear icon next to the ticket in Child Ticket list, then clicking the menu option "Unlink from Parent."